The types of businesses we look after website-wise is truly an eclectic mix ranging from manufacturers of sheet metal components – St Ann's Sheet Metal based in Nottingham, to hair stylists – Hedonism Salon based in Spalding and residential property builder – Ashwood Homes, based in Holbeach, Lincolnshire.
To add to the eclectic mix of business types is a website we have recently designed and built on behalf of the owners of a steel car wheels modification company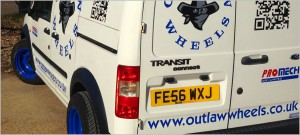 – Outlaw Wheels.
Outlaw Wheels has been modifying steel car wheels as a sub contractor since 2007, and the owner decided to sell directly to the trade and public.  The company offers a fast turnaround and your wheels can be ready for collection or dispatched within just one working week.
Another part of the service offered by Outlaw Wheels is the sourcing of brand new wheels for their clients, if required, from the manufacturer.
As web designers, we can boast that we have the necessary skills within our office to adapt to such a diversity of business specialities.  One of the first questions we ask a prospective new client is "What do you do?" and what a pleasure it is to get to know each business owner and "what they do".