On a recent visit to St Ann's Sheet Metal Co in Nottingham, we were given a guided tour. It was amazing to see the Trumpf "TruLaser 3030 Laser" in action cutting sheet metal.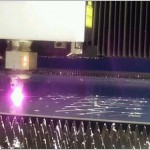 As a Spalding in Lincolnshire website development company, you can possibly appreciate, that the writer of this blog would have been totally unfamiliar with the services that St Ann's Sheet Metal Company offers such as laser cutting.  It was absolutely fascinating and awe-inspiring to watch.
The sheet metals that St Ann's Sheet Metal can fibre laser cut are:
Mild Steel – 20mm
Stainless Steel – 12mm
Aluminium – 12mm
Brass / Copper – 12mm
for specific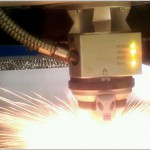 industries such as bespoke PC enclosures, cable management metalwork, fruit machine parts, catering equipment metal work and computer security enclosures.
For more information, visit https://www.stannssheetmetal.co.uk
It was fantastic day out for a couple of office-bound individuals from a rural, website development company to visit East Midlands'  St Ann's Sheet Metal Company and to watch for ourselves the awesome, latest state of the art laser cutting in action.