The future is mobile friendly with the provision of Superfast 4G.  Over the past couple of years or so, we have changed the way we shop, bank, communicate and even watch TV.  The writer of this blog has recently returned from a weekend break in London which is living proof that Smartphone users take more photos than on any other device.   According to the stats provided by www.ofcom.org.uk 60% of adults say that they use their Smartphone most of all to take a pic, rising to 89% of 16-24 year olds.  Just over one in five adults (22%) mostly use their digital camera. From August 2013 to August 2014, people in the UK took an estimated 1.2 billion 'selfies'.
Ofcom reported that in March 2015, two-thirds of people owned a Smartphone using it for almost two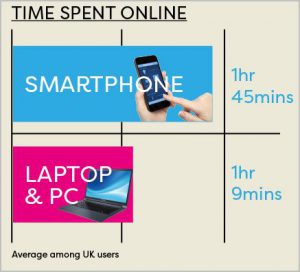 hours every day to browse the internet, access their social media, bank and to shop online.  This figure compared with just over an hour spent online using their laptop and PC.
On the 21st April last year, Google announced that if your website doesn't pass the mobile friendliness test, it will feature less prominently on its search engine results.  In a blog, the company stated that "this will have a significant impact in our search results.  Consequently, users will find it easier to get relevant, high quality search results that are optimised for their devices".
At the same time last year, research began to show that visits to retail websites via mobile devices had overtaken desktop traffic for the first time.  Mobile commerce now accounts for 36% of the UK e-retail sales, rising to 40% for clothing and apparel websites.
At Drive By Websites HQ, we regularly develop and maintain completely unique responsive websites which re-size and re-proportion according to the browsing devices.
Drive By Websites' choice of platform to use for mobile friendly websites is WordPress because:
ease of user – you can easily make updates.
sites can be managed from any computer or device
search engines love WordPress sites
there's no HTML or FTP software required (for the end user)
websites are designed to be future-proofed and grow along with the development of the business.
Drive By Websites securely hosts and manages over 150 mobile friendly websites mainly locally but nationally too.
Drive By Websites offer a fast turnaround, we are affordable and easy to get along with.  Please feel free to get in touch by calling us on 01775 761512.