Both Drive By Websites & Drive By Design's expertise was required to carry out the work required by Finnelle Recruitment.
Spalding-based, Finnelle Recruitment supply childcare professionals for nurseries and schools specialising in the recruitment of  Nursery Managers, Deputy Managers either permanent or temporary.
For parents, Finnelle recommend nannies that have been personally interviewed and thoroughly screened by an experienced childcare consultant.  The recommended nannies will possess the necessary skills and experience.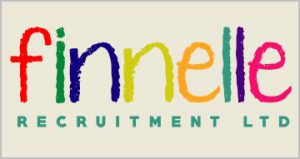 First of all, Drive By Design was set the task of designing the Finnelle Recruitment logo.  Our graphic designer just loves getting creative and we feel that the logo design conveys Finnelle perfectly.  We hope you agree.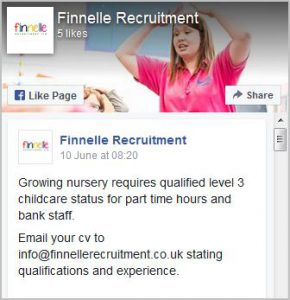 The Finnelle Recruitment website was  then designed with the new logo in mind and, of course, mobile friendliness.  We've also integrated a Facebook newsfeed.  Newsfeeds are an ideal promotional tool providing they are kept up-to-date.  We are delighted to report that Finnelle have a good relationship with social media and they regularly update their Facebook page.
During the initial stage of the website design, Drive By Websites will create 4 website designs from which  you can choose or mix and match.  Once the design has been agreed, we will then implement our technical skills to actually build the website.  To view the Finnelle website, please click here
For more information in respect of good graphic design please visit – www.drivebydesign.co.uk