Managed Facebook advertising in Spalding, Boston and Lincolnshire
Plus local or remote training anywhere in the UK
Drive By Websites Ltd have regularly put Facebook advertising to the test and have found it to be one of the best value for money advertising options available on the internet.  Running a successful advertising campaign online is also easier to implement and measure than most other forms of online and traditional advertising.
Unlike many forms of advertising, you can choose your audience by setting specific criteria such as location, age, gender, interests, job titles and search trends. In addition, many more advanced functions are available to help make the most of this criteria.
Once you're set up, you can run an advert for as little as £1.50 per day, for as long as you would like. At that point you can be sure you money is being well spent as the advert only targets your perfect audience. Once this is done, adverts can be enabled at the click of a button, anytime. We offer a managed advertising service and also training to demonstrate what you can get from your advert. For more information on fully managed advertising, please give us a call on 01775 761512.
Remote Facebook Advertising Training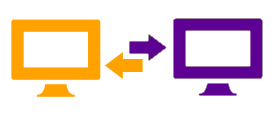 Training covers subjects like lead generating, click to call, and page promotion. You can then follow how well the advert is performing and how your budget has been spent.
To arrange training to anywhere in the UK, we have to tools to remotely display our demonstration screen on your computer. Using remote-conferencing software, we are able to provide training in a familiar setting. The tools are easy to use and we do most of the work for you. Once the connection is established, the training that follows is no different to the training we offer to clients in our office.
To find out more about remote training, your first audience and ad campaign, please call us on 01775 761512.