With over 40 million active people using Facebook, Facebook offers exceptional, low cost marketing opportunities for the small business owner. As a small business owner, you are probably aware of how large organisations are benefitting from Facebook, then isn't it time you gave it a go?
Facebook offers a very powerful platform on which to build an online presence.  If you're not already active on Facebook, you should get started right away.

Twitter connects businesses to customers in real time—and businesses use Twitter to quickly share information with people interested in their products and services, gather real-time market intelligence and feedback, and build relationships with customers, partners and influencers.
Twitter offers businesses an easy way to reach an engaged audience.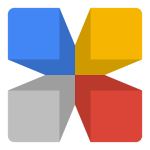 "Google My Business" will put your business information on Search, Maps and Google+ so that customers can find you, no matter what device they're using.
If you previously used Google Places for Business or Google+ Pages Dashboard to manage your business information, your account has been automatically upgraded to Google My Business. Google My Business makes it easier than ever to update business information across Google Search, Maps and Google+.
"Google My Business" helps you build a loyal fan base. Your customers can show their appreciation with ratings and reviews, use the +1 button to endorse your content and re-share your Google+ posts across the web.

LinkedIn is a business orientated social media network for professionals – business to business.  It's huge – with over 175 million professionals use LinkedIn to exchange information, ideas and opportunities.

Pinterest is basically an online pin board.
Pinterest is becoming increasingly popular in the UK and could be relevant to you as a business owner because visual content is becoming extremely popular amongst social media users. Visual content is another avenue to explore to gain new customers and generate those important leads.
For more information in respect of how Drive By Websites can help your business social media wise – please call us on 01775 761512.