Drive By Websites was absolutely delighted to be awarded the contract to build the website featuring an offshore wind farm being developed 20 miles off the coast of Lincolnshire and 28 miles from the coast of north Norfolk.
The information website is to keep visitors informed of project news and information to help people take advantage of the opportunities that will become available from this exciting new project.  Suppliers interested in working with Triton Knoll and their contractors can register their interest here.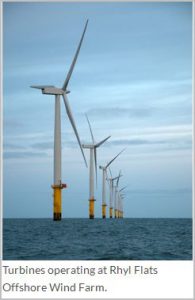 Triton Knoll is seeking the best value in respect of all aspects of its delivery with the aim of becoming one of the most cost-competitive offshore wind farm projects, generating some of the lowest cost energy for UK consumers.
When interviewed, Drive By Websites' Director, Jack McLean had this to say: "It is a privilege to be working on such an exciting project. The Triton Knoll website will demonstrate relatable content and design for anyone, from the local communities to project stakeholders. It is already clear that this partnership is set to be productive."
Visit here to find out what Project Director, James Cotter had to say.
The Triton Knoll Offshore Wind Farm has an expected maximum export capacity of up to 900MW.  Once the project has been constructed, it will have the capacity to provide enough electricity to meet the potential energy needs of up to 800,000 average UK households annually.
The construction and operation of the wind farm could also represent a potential investment of over £3billion across the project life-cycle, and an important supply chain opportunity.
You can keep in touch with Triton Knoll in respect of  what is going on around the project by email: [email protected] or you can write: Triton Knoll Offshore Wind Farm Ltd, 2 Eastbourne Terrace, London W2 6LG