Drive By Websites was delighted to be awarded the contract to build the website on behalf of the Charity; Holbeach Cemetery Chapels Trust. The website we designed is a multi-page, mobile friendly brochure style website which also includes a Community Events Calendar and a News (blog) page – www.holbeachcemeterychapels.org.uk
There are two chapels at Holbeach Cemetery. One is Church of England and the other is Non-Conformist. Both were built in 1854. The chapels are surrounded by a six acre cemetery.  There are also some very fine monuments commemorating some of the area's leading families and figures. Funding has been made available to refurbish the buildings and to find a use for the chapels to benefit the whole community.
A visit to Holbeach Cemetery Chapels will also reward you with views of some splendid architecture and a reminder in respect of how lives and death were celebrated and dignified by our ancestors.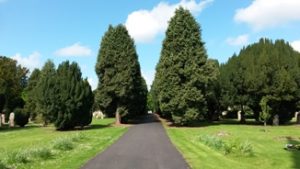 The work of the Charity relies on the support of volunteers.  The voluntary roles include:
Members of the Board of Trustees and Advisory Committee all working in a voluntary capacity
Volunteers who manage the administration and undertaking of the Holbeach Cemetery Research Group
Individual volunteers who help with one-off events such as the Heritage Open Day and/or The Great Big Community Textile Project
Volunteers who help with such things as event administration and fundraising
The Holbeach Cemetery Chapels Trust is funded by the Heritage Lottery, the Architectural Heritage Fund, Heritage Lincolnshire County Council and the Gedney Marsh Windcluster Fund.
For more information in respect of mobile friendly websites, please feel free to contact Spalding based Drive By Websites